A house floor plan provides a view of the rooms and spaces in a house. It is always drawn to scale and dimensions are indicated to provide an idea of the sizes of rooms and spaces. Details of fixtures such as sinks, cupboards, air conditioners, water heaters, light fittings, etc., may also be included.
2D House Floor Plan
A 2D house floor plan provides a basic representation of the rooms and spaces that would be available once the house is ready.
Such plans also provide information about the sizes of different rooms, the location of doors and windows, and how furniture can be placed to ensure maximum movement space.
2D house floor plans provide a top view and can be made in colour using tools such a Photoshop, CorelDRAW, etc.
3D  House Floor Plan
A 3D house floor plan provides a more realistic representation of rooms and spaces that a building to be constructed will have.
Further, it is possible to incorporate much more intricate details in a 3D floor plan than a 2D floor plan.
Again, 3D house floor plans help architects to present the design intent in a better manner to builders.
In turn, builders can use the 3D house floor as a sales tool. This is because they provide end customers with a clear idea as to how the house will look after construction. This enables customers to make decisions quickly.
In addition, 3D house floor plans help builders suggest modifications and finalize designs quickly. Further, 3D floor plans make it extremely helpful in designing the interiors of buildings.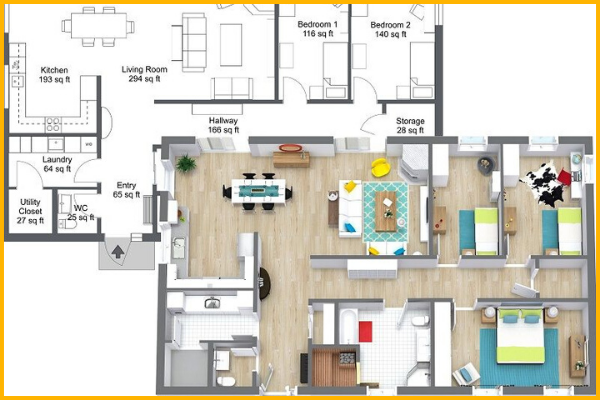 Why 3D House Floor Plans Are Better Than 2D House Floor Plans
1. Higher Level of Visual Impact
A 3D floor plan is visually more attractive compared to the 2D floor plan. This is basically because it is possible to incorporate colour schemes and models of furniture and fixtures such as chairs, tables, cots, wardrobes, light fittings, etc., in 3D plans. For a better understanding of the design aspects, it is even possible to animate 3D plans.
2. Presentation Is Easy
A 3D floor plan can be saved as an image as it does not consume too much disk space. It can then be sent to a client by email or through mobile chat apps. It can also be presented on third-party websites and through road shows, trade fairs, etc.
3. Architectural Walkthrough
After finalizing the design of a house, a 3D Architectural walk through can be created to provide a realistic feel of the proposed building to the end customers. Architects and/or 3D renderers can create interior and/or exterior walk throughs to help customers visualize as to how the house will look on completion of its construction.
The development of a 3D house floor plan does not take more time than that is needed to create a 2D house floor plan. Further, it makes design validation and incorporation of changes easier and greatly reduces the need for post-construction design changes. In conclusion, 3D house floor plans are helpful in many ways when compared with 2D house floor plans.