In the real estate sector, there is a huge demand for Virtual home staging services, where you use Computer applications to touch-up the Interior or Exterior photographs of properties to stage a different and aesthetically appealing look of the property.
Some examples of virtual home staging are
Place furniture in a photograph of an empty room
Change the existing furniture, wall papers, flooring, lighting, etc. in the photograph of the room.
Show case the room with a different furniture layout
Change the details of garden, grass, façade details, etc. in the Exterior photographs.
Change façade details of a building
Change snow to grass
Fill empty swimming pools with water
The purpose of Virtual home staging is to package the property to make it more appealing to the buyers.
Staging a photograph with modern, minimalistic furniture and accessories works better than showing a photograph of an empty room. This makes the buyers feel at home when they tour the property and enables them visualize how the house will look with furniture. Moreover, it gives them an idea as to how much space they will have after it is furnished. Hence, helping prospective buyers to make an informed purchase decision.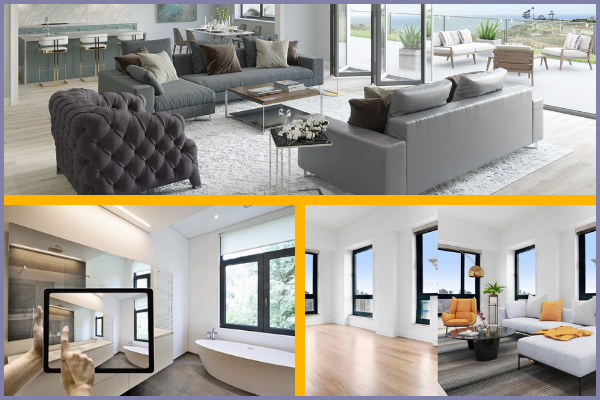 If you are a real estate agent, property developer, or an individual and want to sell property, here are six compelling reasons why you should do Virtual home staging.
1. It helps you to sell your property faster
The price of a home declines if it stays in the listing for a longer period of time. Studies show that the time spent by staged homes on the market is 72 percent less. This means that home staging does not only help you to sell faster but also fetch a higher price for your home.
2. It ensures that buyers view your home objectively
Home staging ensures that your property is packaged in such a way that it becomes appealing to prospective buyers. This, in turn, increases viewers' interest in your property.
3. It helps the buyer visualize how the property will be when furnished
This is by far the most important reason as to why you should consider home staging when putting your property for sale. Potential buyers will be able to decide faster when you help them to visualize as to how they could make your home theirs.
Digitise IT – A virtual home staging service provider
If you are looking for a Virtual home staging service provider, you don't have to look beyond Digitise IT.
The CAD services provider offers a wide range of high-quality virtual home staging services for the real estate sector: Architectural 2D drawings, 3D modelling and visualization, Real estate photo enhancement services and creation of VR tours, and point cloud data conversion, among others. For more information, you can visit the company's website at https://digitiseit.co.in.